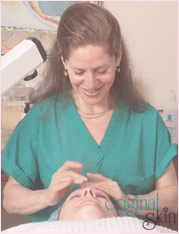 Original Skin by Erica Trojan has been delivering skin-altering results for nearly a decade. Located on Chicago's North Shore, Original Skin provides clients with innovative, medically-based treatments for non-surgical age reversal and skin rejuvenation.
Having worked with some of Chicago's best-known plastic surgeons, Erica is skilled in the most state-of-the-art skin treatments but also realizes the importance of personal service. As a licensed Medical Esthetician, she customizes and combines non-invasive treatments to match the unique skin qualities of her clients while also providing them with the relaxation and pampering they desire in the privacy of her suburban Chicago studio.
As the Medical Spa trend continues to grow, there are a dizzying array of choices. Erica Trojan's Original Skin is simply the best choice:
Beyond Erica's service ethic is a deep understanding of the universal drive toward beauty and symmetry. The Original Skin approach honors the highest expression of harmony and beauty as a balance between health and proper ritual.
As well, she brings a rich academic and medical background to her work; her private studio is beautiful and welcoming. She is generous and her approach creative, always offering cutting edge treatments.
Most of all, she loves what she does!
High-tech. High-time. High-touch.
The ultimate benefit?
Nothing short of a return to your Original Skin.